Make Me Modest is dedicated to helping women maintain their personal resolve to dressing modestly.
We've created a modest Skirt and Sleeve Length Extender line that allows women to shop for clothes anywhere without having to worry about the length. The Skirt Length Extenders slip on comfortably under woman skirts and dresses to blend in perfectly adding the extra desired leg coverage. Make Me Modest also offers additional modest clothing items. Additional Make Me Modest brand items continue to be developed as we listen to women and hear their concerns.
But Make Me Modest is more than just a Fashion Company...
We are a Social Good Company too.
A portion of our profits go toward research and educational scholarships to help young women develop confidence in knowing that their beauty is more than skin deep.We believe that a person does not have to show more skin in order to get attention. Your skin is beautiful, but there is much, much more to your beauty than that. We want to help you let the world seeall of your beauty, not just the skin deep part.
We believe it is critical to promote a healthy image for women to aspire to, and we are committed to doing so. As such, wepromote and participate in health promoting activities, we use real women as our models, do not Photoshop their bodies, and offer various free community resources on this site.
Our Story
Make Me Modest was born as a solution to a problem in 2005. President and co-owner Miriam loved to shop. She loved getting great deals on purchases. But often times those great deals on women's clothing came with too short of a hem length on skirts and dresses, too low of a neckline, or were too revealing in other ways. Miriam hated having to choose between getting a great priced fashionable clothing item or keeping her personal standards of modesty in dress. Why couldn't she have both she questioned.
As an early morning seminary teacher for her church,
The Church of Jesus Christ of Latter Day Saints, she also noticed that this was a problem that many young women were facing too. Unfortunately, many of these beautiful young women were opting for the body revealing clothing and dismissing their standards of modesty. This bothered Miriam. With an educational background in behavioral health she new the negative effects that body revealing clothing has on women. She shared her concerns with her mother Olga, a talented and experienced seamstress, dressmaker and clothing designer. As usual, her mother got right on finding a solution to make her daughter happy. Of this, the Skirt Length Extender was born. In 2012 Make Me Modest registered as an L.L.C.
From this simple beginning much more came...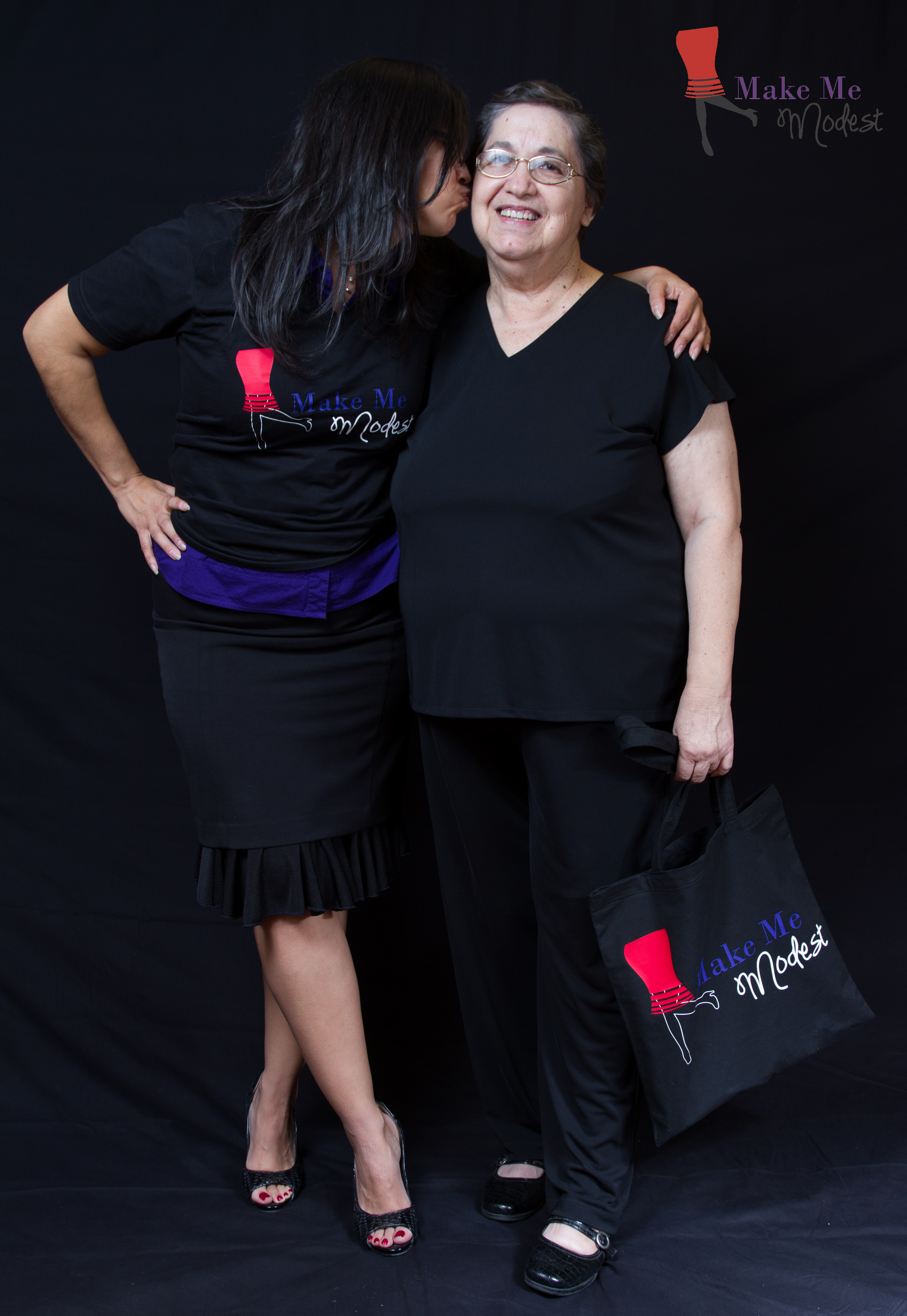 Today, Make Me Modest offers a line of Skirt Length Extenders, Sleeve Length Extenders, Cleavage Covers, Swimsuit Shields, and other modest clothing options that can make any outfit modest. Additionally, Make Me Modest works to empower women into understanding that they are not objects. A woman's worth is not defined by her body. As such, her self esteem needn't come out of revealing her body.
Make Me Modest knows that self esteem can come when a woman recognizes and believes in who she is, for what she is. It can come when she knows and appreciates her own strong mind, her kind nature, her individual personality, her infinite worth, her passions, talents, ambitions, and loves her own laughter. Make Me Modest supports all worthy causes that help women achieve this.